CPHS girls tennis placed second at their last regular season meet on Thursday! Regionals is on Friday. Good Luck Lady Oilers!!
CPHS announces the Homecoming Court. The ceremony is Friday at 6:30. The football game vs Sylvan Grove kicks off at 7:00 p.m. Front Row: Reese McGuire, Jennifer Chamberlain, Emma Hickel, Brynna Hammeke. Back Row: Isiah Jensen, Gage Demel, Evan Stratmann, Joseph Bunch.
The 6th graders at CPES measured, swept, taped lines, painted hopscotch and four square on our playground this week! Awesome workers and awesome job!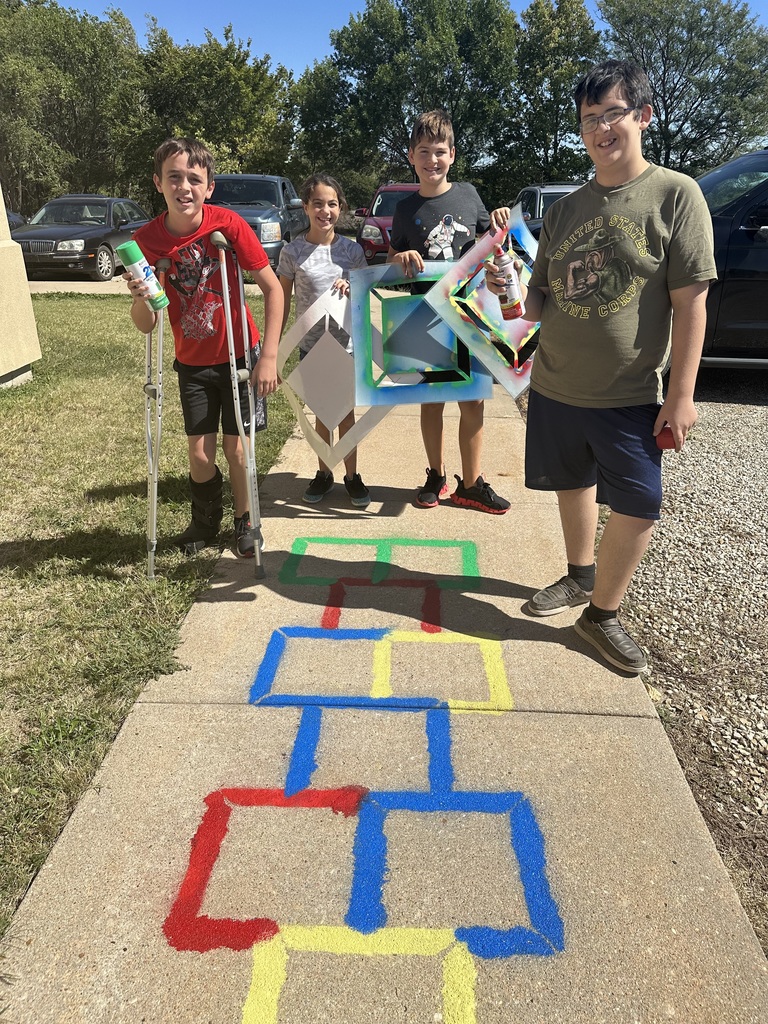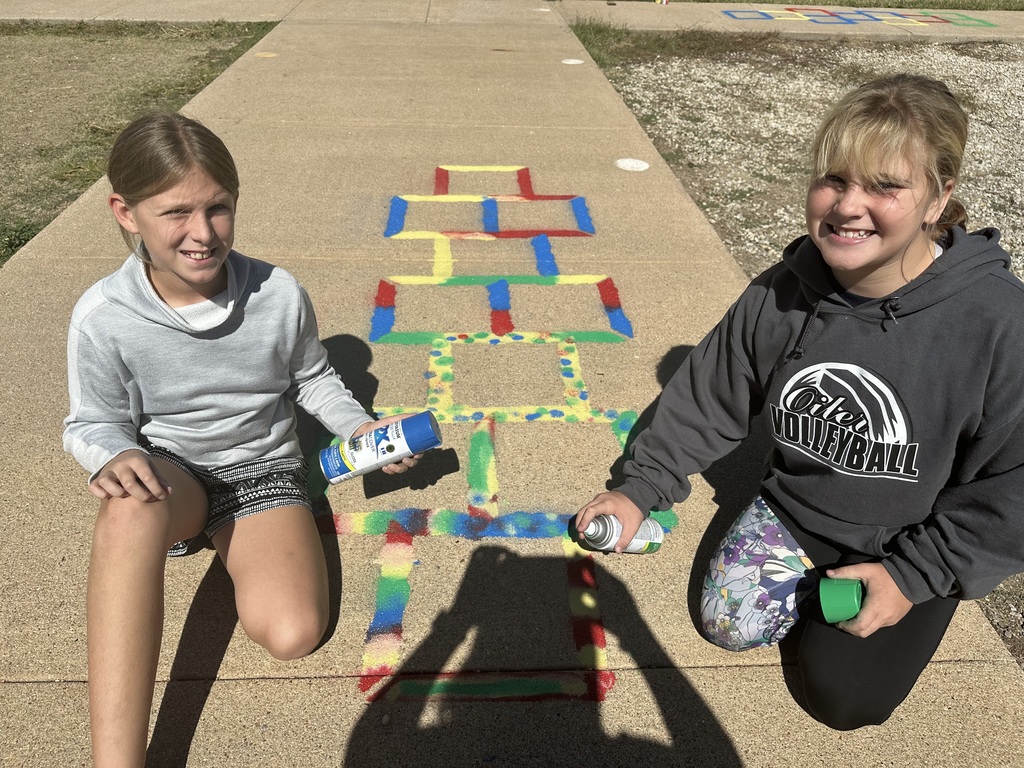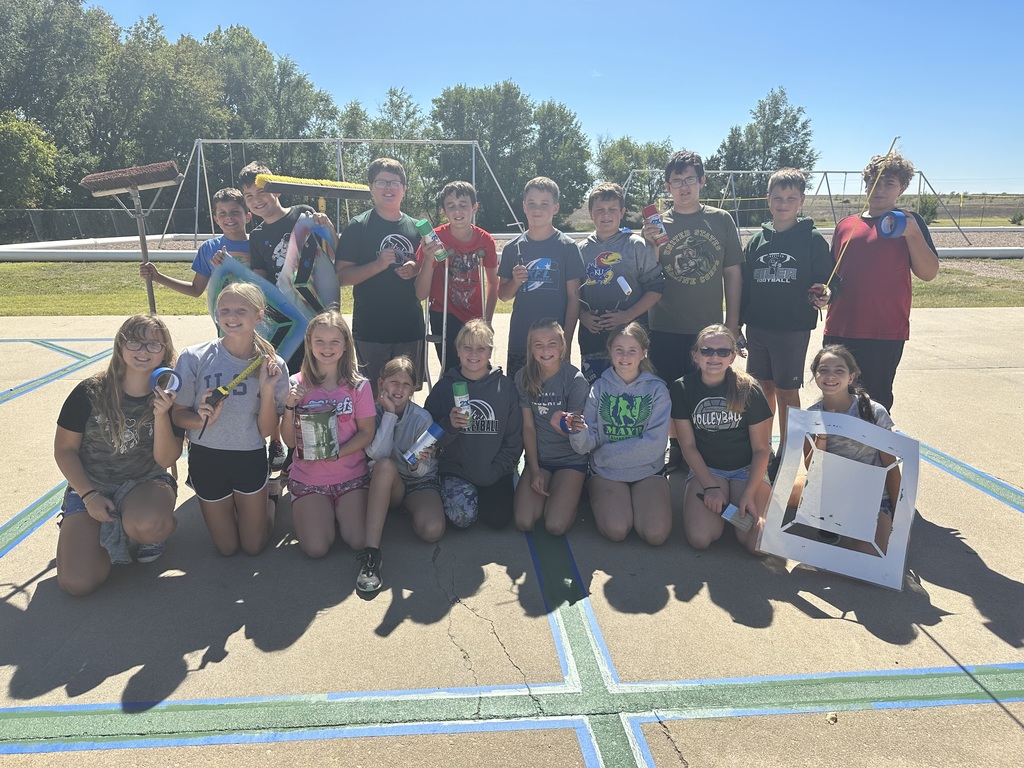 CPJH JV Tournament Saturday October 1st at Ellinwood
Congratulations to Tate McKenna, Austyn Robl, and Hannah Connell for placing in the My Toy Invention Art Contest for PBS Kansas Kids! Congratulations, Hannah, for receiving Honorable Mention! Hannah's toy invention is a lion that follows a purple toy and sings when it moves. Congratulations, Austyn, for receiving 3rd place! Austyn's invention is a TV that has a portal. You can jump in and become a character. Congratulations, Tate, for receiving 2nd place! Tate's toy invention is a Buddy Bot with a speaker, squirt gun, cannon, and even Wi-Fi.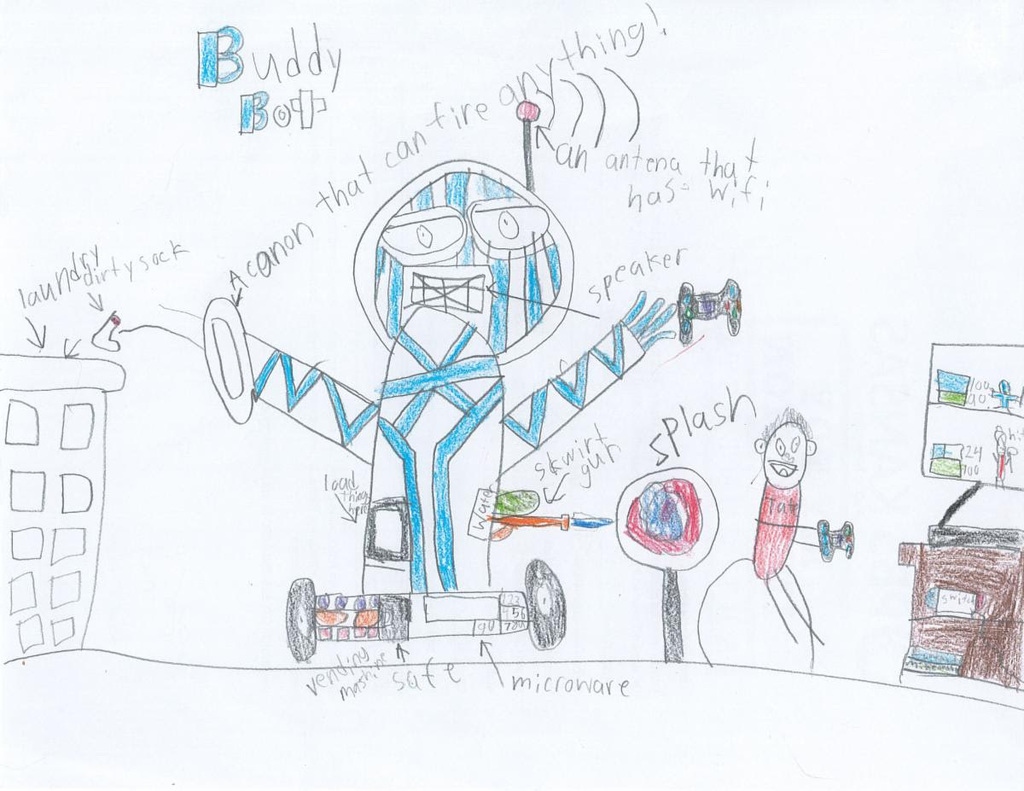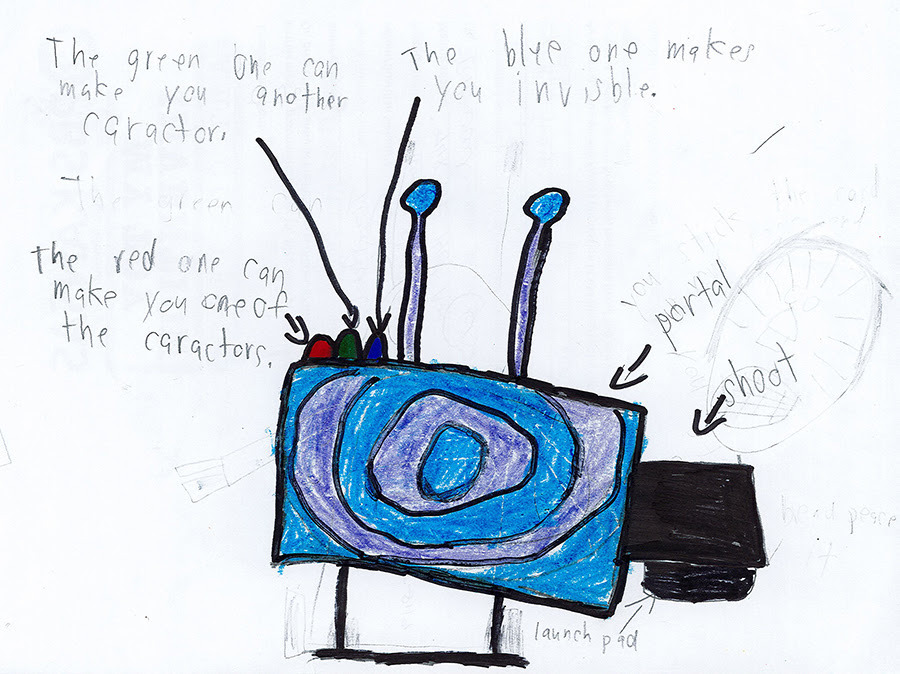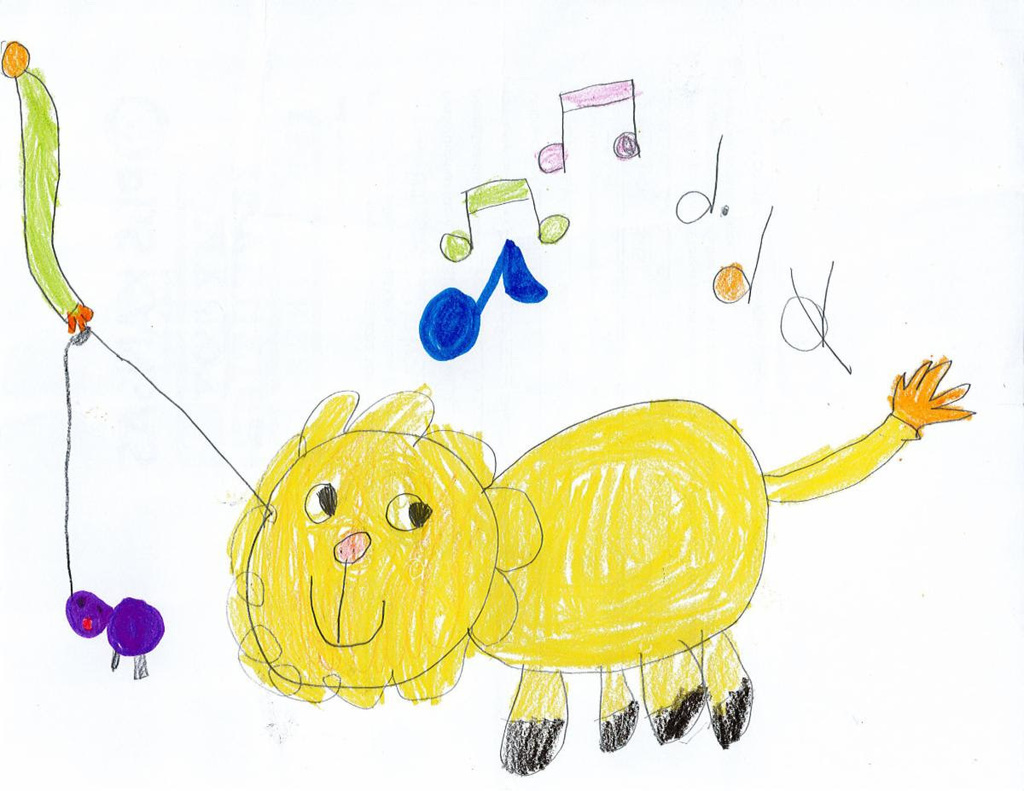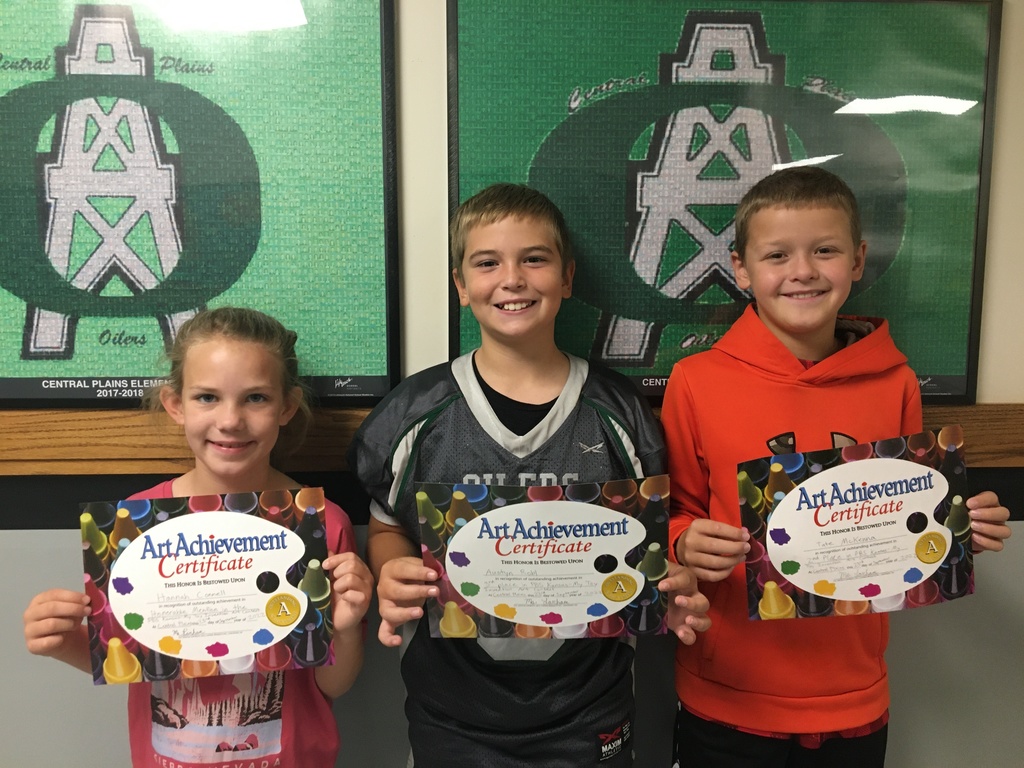 CPJH Volleyball C-team place first at their home tournament on Saturday! Way to go girls!
CPHS girls tied for first place at the Trego meet on Saturday!
Parents: Here is a link for the Kansas Communities That Care survey the kids will be participating in. This link will allow you to see the questions that will be asked.
https://kctcdata.org/studentsurvey
There were some errors on the Central Plains calendar. Here is the updated sports schedule.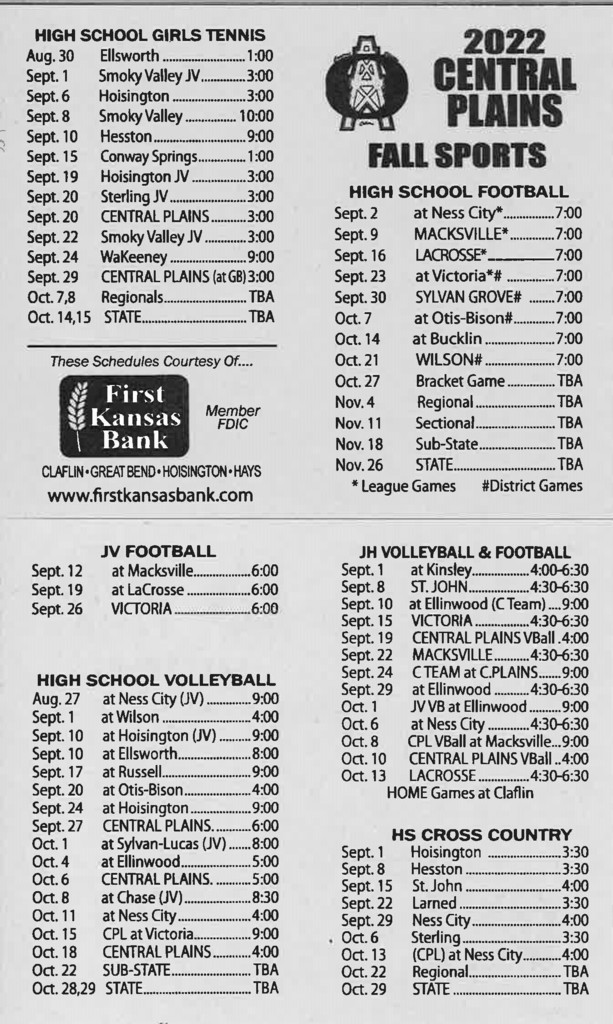 BUILDING CUSTODIAN: USD 112 Central Plains is currently taking applications for a Part-time building custodian at Central Plains Elementary School in Holyrood, Kansas. Tentative hours are 6am-11am, year round position. Salary is negotiable. Benefits include BC/BS health insurance, KPERS retirement, FREE life insurance, along with vacation, sick and personal leave. Interested applicants may secure an application and job description by e-mailing
dney@usd112.org
or calling 620-588-4200. Applications are also available on-line at
www.usd112.org
and clicking on "career opportunities", the non-certified application.
Native Plants received from a grant from Kansas Native Plant Society. (Kliesen Memorial Fund). CPED students helping Mr. Dahlke plant them outside our school.
It's nomination time for the Hall of Fame! Please return forms by October 3rd.
Check out the CPES Counseling Newsletter to see the focus of lessons and character trait we will be talking about each month. To find the page click on the menu button at the top of the USD 112 website and scroll to the bottom. Then click on CPES Counselor. At the bottom of the CPES Counselor page you will see a Newsletter tab to click. This is where you will find the newsletter for each month.

CPES 4th grade attended Ag Day in Great Bend yesterday. Looks like they had fun!
BUS DRIVER - FULL-TIME POSITION: Central Plains School District is seeking a full-time bus driver for the 2022-2023 school year. Candidates must pass the Class A or B licensing test and the entry level driver training course (ELDT), (which is reimbursable upon successful completion) complete 12 hours training in school bus driving, First Aid, PR, defensive driving and a DOT physical examination. Hourly driving rate will be $18.13. Various benefits are included with this position. For more information and a job description, contact the district office at 785-252-3695 or email Jamie Zink at jzink@usd1 12.org. Access an application on-line at
www.usd1
12.org, Career Opportunities, Non-certified application. Taking applications until filled.
Voluntary Student Insurance Form. Can also be found under the Health and Wellness tab on the district webpage.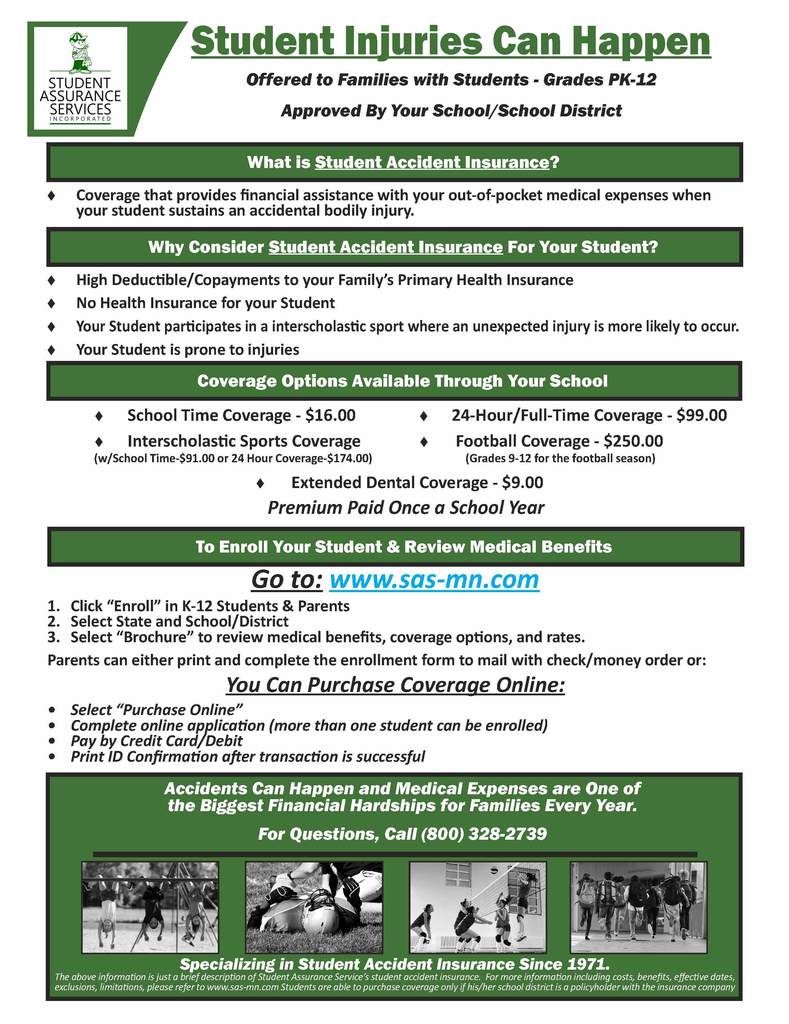 For the USD 112 Central Plains phone app go to ww.usd112.org ... scroll to the bottom of the home page ... on the right side are links to App Store for Iphones and Google Play for Androids. Be sure and say yes when the prompt for "Central Plains wants to send you Notifications"